YOUR LOCAL CART SERVICE EXPERTS
FULL SERVICE REPAIRS & SERVICE
At South Walton Carts, we can do everything from replace a headlight bulb to a complete restoration. We offer on-site repairs on certain parts and are a Certified Trojan Battery Dealer. And you can count on us for fast, guaranteed service with the lowest labor and parts rates in the area.
PARTNERS INCLUDE: Custom Cart, Inc | Double Take | JB Global | Eagle EV | Evolution EV | Security Key | Rockford Fosgate | Street Glow
RATES
Towing (in South Walton) | starting @ $75
Repairs, Labor | $95/hr
On Site Diagnostics | $95/hr
On Site Repair | $125/hr
On Site Cleaning & Detailing | starting @ $75
Emergency After Hours Repairs | starting @ $130/hr + Parts & Labor (*This service is subject to our availability)
MAINTENANCE
We offer weekly, monthly, bi-monthly and yearly maintenance plans. Preventative maintenance is very important on street legal carts. It could help you or your guests from being stranded and more costly repairs down the road.
CONTACT US BELOW TO SCHEDULE YOUR SERVICE
OR CALL US AT 850-797-0284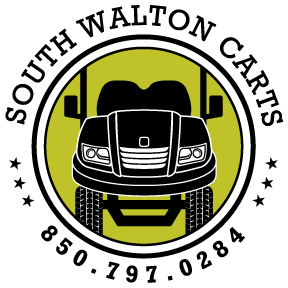 'Serving The Florida Panhandle Since 2011'
RENTALS | SALES | CUSTOMIZATION | PARTS | SERVICE
For after work hours emergencies please contact us via email and put emergency in the subject line